Saucony Guide 13
Was £120, now £85. Saving £35!
8mm drop
289g
Subtle support
Formfit upper
PWRRun midsole
The Guide 13 provides responsive cushioning, structure and supportive element which enables the foot to perform. Enough control to avoid over working, but with comfortable freedom of movement enough for hours of high milage training in the one visit. A real armchair of a training shoe, without compromising on fit/feel and stunning aesthetics. As fine a shoe as we've seen at this price.

Guiding every step to feel-good runs.
For those who crave reliable comfort on any run and need some support, the Guide 13 gives the best balance of feel-good cushioning and fluid guidance through the gait cycle.
Overview
New PWRRUN cushioning provides just-right softness that's responsive enough to tackle as many miles as you wish.
The new medial TPU guidance frame quickly and quietly guides each foot through its natural gait cycle for the smoothest feel yet.
FORMFIT surrounds the foot with a made-for-me feel that can accommodate a wide range of foot shapes comfortably.
Specs
Shoe Category: Stability
Offset: 8mm (32.5/24.5)
Weight; 10.2oz (289g)
8MM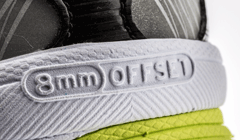 Cushioning is distributed more evenly between the heel and forefoot in shoes with an 8mm offset. The result? Your body stays in a more balanced and comfortable position with every foot strike.