Introducing Dynafit's Environmental and sustainability Policy
Dynafit is the latest brand to be added to our line up here at Accelerate. There are a few major reasons behind taking them even as a relatively unknown brand in the UK. Firstly down to their amazing range of apparel, It's stylish yet functional with an overriding performance element. Secondly and more importantly to us here is their environmental standpoint and how much they are doing to push forward this with everything they do year in year out.
"The passion for the mountains is what drives us day after day. We believe that enthusiasm and responsibility are key factors to our brand"
Dyanfits Environmental and Sustainability policies and feats

The Fair Wear Foundation is a non-profit organization with the mission to improve working conditions globally in the clothing industry. Members pledge to uphold the "FWF Code of Labour Practices," and in addition the working conditions in their factories. These are audited by independent expert teams on-site at the manufacturing facilities where improvements are undertaken as needed.
Dynafit has been a member from 2013, since then they have managed to get 95% of all of their textile products from low-risk countries or from facilities that have already been audited by Fair Wear. Dynafit works hard on improving their supply chain. They have continuously grown their status with the FWF since their first involvement. In 2016 Dynafit achieved an outstanding result and was awarded Fair Wear Leader status.
To learn more about Fair Wear and the amazing work they are doing click Here
Made in Europe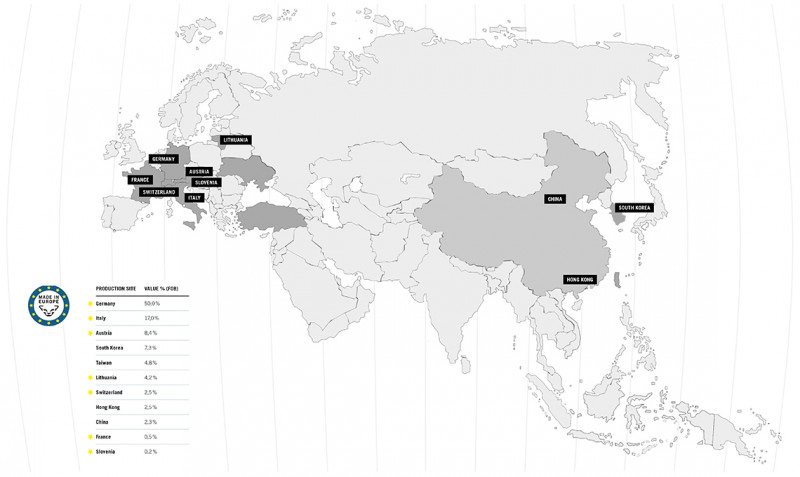 Dynafit are aiming to reduce the amount shipped across the world, hence the Made in Europe Labels you might find on the clothing in store. However, some textiles are still imported from Asia but this is now as low as 15% of their total imports. They pay special attention here to comply with international work standards, which occurs in cooperation with the Fair Wear Foundation.

The Bluesign is a system with solutions for industry and brands with which they can increase their sustainability performance. As an independent authority, bluesign checks the progress of participating companies and ensures the ongoing and continued development of the criteria and solutions.
Since the summer of 2011 Dynafit has been a Bluesign system partner. The starting point is the beginning manufacturing process where they offer a sustainable solution in textile production. Bluesign is a seal of approval for the protection of people and the environment. 89% of Dynafit's apparel products were made using either bluesign® or OEKO-TEX® certified materials!

The European Outdoor Conservation Association is an association made up of 126 European companies in the outdoor industry. EOCA follows the principle: "We strive to support worthwhile nature conservation projects by procuring funds through the European Outdoor branch to promote the care and respect for wild places." Over the last 13 years, the EOCA has funded 121 projects in 54 different countries totalling over €3 million!
Dynafit has been a member since 2013 and a project close to their hearts has been backed. The protection of Snow Leopards in High-Altitude Habitats. This took place in the Spiti Valley in India which has one of the largest populations of snow leopards anywhere in the world. The project was to create a safe heaven for Snow Leopards it ended up totalling an area of 25k's.
To Dynafit, the snow leopard is more than just a symbol of their brand. It's a role model and characteristics everything about living and surviving on the high mountains.
While change doesn't happen over night we feel taking brands like Dynafit and Patagonia who are going above and beyond others not only sets a high standard in the quality of their garments but the way they produce them by looking after the entire production line.
If you are still not convinced them head to the store as we are always more than happy to chat everything from clothing to how its made.
Monday 19th of October 2020